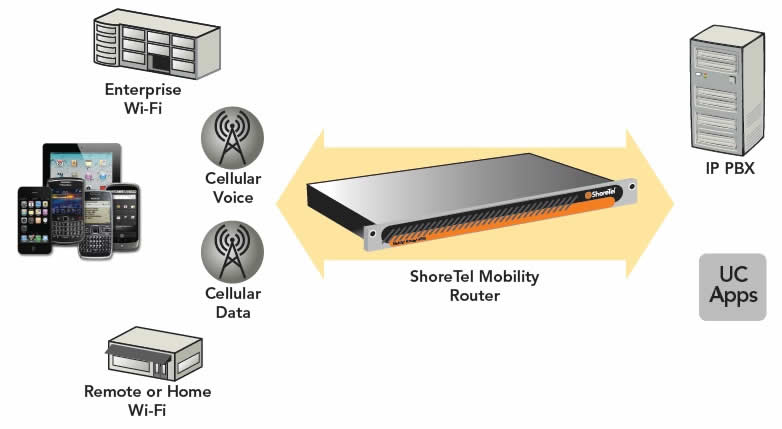 ShoreTel. Brilliantly Simple
ShoreTel Mobility enables businesses of all sizes to integrate leading – and loved – smartphones and tablets securely, simply and cost-effectively, with existing enterprise communication applications and infrastructure. Our enterprise mobility solution makes it easy for your workforce to embrace BYOD (bring your own device), communicating on the devices of their choice. From any location (office, home, hotspots), and on any network (voice over Wi-Fi , voice over 3G/4G, or cellular), they can access a full suite of mobile unified communications tools.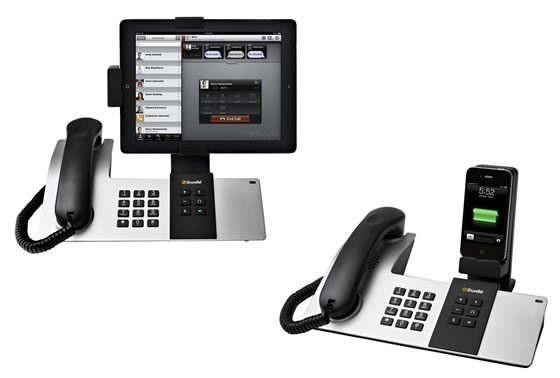 Combined with ShoreTel Dock, your workforce can go mobile but still have a home base. The ShoreTel Dock merges the benefits of a desk phone (audio quality, always-on power and ergonomic comfort) with the power of the ShoreTel Mobility app. Workers just click in their iOS device (iPad or iPhone) into ShoreTel Dock and they are off and running.
Businesses are deploying ShoreTel's mobile workforce solution to address the key challenges associated with BYOD (bring-your-own-device) demands from employees: soaring international roaming costs, poor in-building coverage, and integration into corporate PBX and unified communications systems.
ShoreTel Mobility also supports ShoreTel Conferencing on Apple iOS devices, further increasing the flexibility and reach of mobile users by making ShoreTel's rich collaboration capabilities available on iPads and iPhones. It's as simple as downloading the current ShoreTel Conferencing for iOS application from the Apple App Store. Within minutes, iPad users can participate fully in conferencing and collaboration sessions, viewing spreadsheets, and presentations, on the desktops of others.
Not only is ShoreTel Mobility an inherent component of the ShoreTel Unified Communications system, it also easily integrates with other PBX and UC systems, including those from Cisco, and Avaya.
Designed to slash the high cost of enterprise mobility.
ShoreTel Mobility's patent-pending least-cost routing not only routes cellular calls via the cheapest path inside and outside the enterprise, but is also one of the only solutions to use VoIP over WLAN on leading smartphones and tablets from Apple, Android, and BlackBerry to drive international costs down and increase user productivity.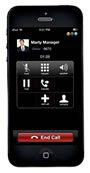 Constant connectivity and mobile UC at your fingertips.
The need for an increasingly mobile workforce to remain connected at all times, combined with building design and materials that inhibit cellular radio transmission, mean that businesses are always looking for ways to provide in-building coverage without the significant investment of cellular-based technology. ShoreTel Mobility helps enterprises and governments take control of in-building coverage problems and leverage Wireless LAN networks to provide wireless coverage. The ShoreTel Dock also adds traditional telephone capabilities (audio quality, always-on power, ergonomic comfort) for ShoreTel Mobility users, without requiring any additional support from the IT department.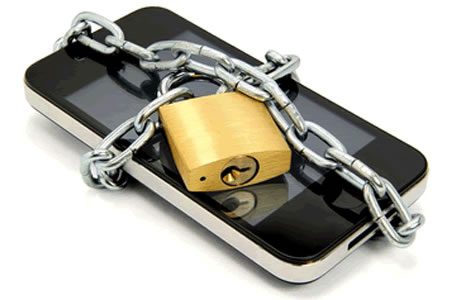 Mobility with security in mind.
ShoreTel Mobility secures mobile enterprise communications by leveraging proven standards for authentication and encryption with X.509 digital certificates and AES-256 encryption. The solution preserves both simplicity and maximum security by automatically recognizing when the user is outside the enterprise firewall, and automatically launching in response an application-layer SSL VPN.