Brocade leads the industry in providing comprehensive network solutions that help the world's leading organizations transition smoothly to a virtualized world where applications and information reside anywhere. As a result, Brocade facilitates strategic business objectives such as consolidation, network convergence, virtualization, and cloud computing. Today, Brocade solutions are used in over 90 percent of Global 1000 data centers as well as in enterprise LANs and the largest service provider networks.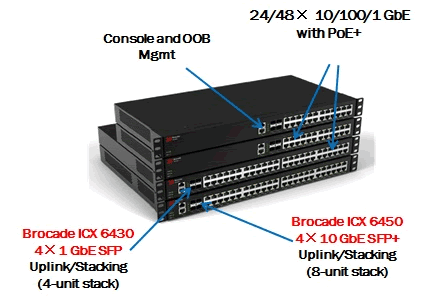 Brocade ICX 6430 and 6450 Switches
Brocade® ICX® 6430 and 6450 Switches provide enterprise-class stackable LAN switching at an entry-level price, allowing organizations to buy what they need now and easily scale as demand grows and new technologies emerge. Designed for small to medium-size enterprises, branch offices, and distributed campuses, these intelligent, scalable edge switches deliver enterprise-class functionality at an affordable price—without compromising on performance and reliability.
The Brocade ICX 6430 and 6450 are available in 24- and 48-port 10/100/1000 Mbps models and four 1 Gigabit Ethernet (GbE) or 10 GbE dual-purpose uplink/stacking ports—with or without IEEE 802.3af and 802.3at Power over Ethernet/Power over Ethernet Plus (PoE/PoE+)—to support enterprise edge networking, wireless mobility, and IP communications.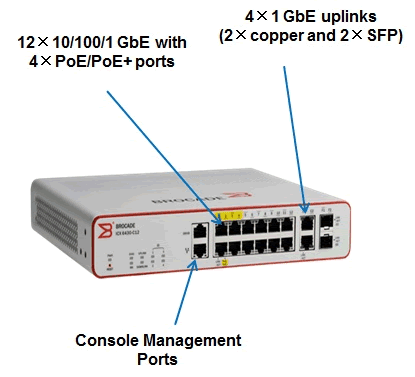 The Brocade ICX 6430-C Compact Switch provides an enterprise-class Layer 2 LAN switching solution to meet the growing demands of campus networks. Designed in a small form factor with fanless operation for classroom, retail, factory, small office, and workgroup environments, the Brocade ICX 6430-C delivers enterprise-class functionality at an affordable price. It is available in a 12-port 10/100/1000 Mbps model with IEEE 802.3af PoE and 802.3at PoE+ on four ports and four additional 1 GbE ports for uplinks.
Unique and Cost-Effective Ethernet Stacking
40 GbE of stacking bandwidth with 10 GbE ports (full duplex)
Hitless stacking controller failover
384 ports per stack (Brocade ICX 6450)
Flexible Model Configurations
Dual-purpose uplink/stacking ports
24/48 ×10/100/1 GbE + 4×1 GbE SFP uplinks/stacking
24/48 × 10/100/1 GbE + 4×1 GbE/10 GbE SFP+ uplinks/stacking
PoE/PoE+ and non-PoE models
Includes fanless model: Brocade ICX 6430-24
Advanced Features
RPS/EPS—redundant power and extended PoE power
Encryption via MACsec 802.1ae (hardware-ready)
Energy Efficient Ethernet (EEE) (hardware-ready)
sFlow for granular traffic accounting (Brocade ICX 6450)
Layer 2 and Basic Layer 3 Features
Common CLI and feature parity with FastIron WS
Base software includes IPv4 static routing (Brocade ICX 6450)
Premium license for Layer3—OSPF, RIP, VRRP (Brocade ICX 6450)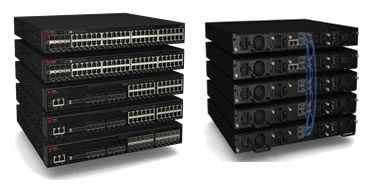 Brocade ICX 6610—Next-Gen Premium Stackable
The Brocade® ICX® 6610 Switch redefines the economics of enterprise networking by providing unprecedented levels of performance and availability in a stackable form factor. It delivers the capabilities of a chassis with the flexibility and cost-effectiveness of a stackable switch.
The Brocade ICX 6610 delivers wire-speed, non-blocking performance across all ports to support high-bandwidth and latency-sensitive applications such as voice/video streaming and Virtual Desktop Infrastructure (VDI). Up to eight Brocade ICX 6610 Switches can be stacked using four standards-based full-duplex 40 Gbps stacking ports, providing an unprecedented 320 Gbps of backplane stacking bandwidth with full redundancy, eliminating inter-switch bottlenecks. Additionally, each switch can provide up to eight 10 Gigabit Ethernet (GbE) ports activated through a software license for high-speed connectivity to the aggregation or core layers.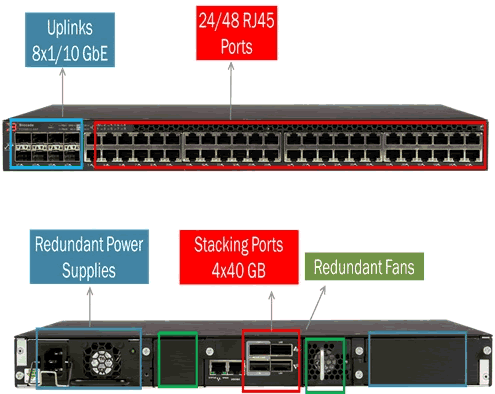 Brocade ICX 6610 Switches support the Power over Ethernet Plus (PoE+) standard (802.3at) to provide up to 30 watts of power to each connected device. This high-powered solution simplifies wiring for next-generation edge devices such as video conferencing phones, pan/tilt surveillance cameras, and 802.11n wireless Access Points (APs). With a 1500-watt power budget per switch (with two power supplies), the Brocade ICX 6610 24- and 48-port PoE models can supply full Class 3 (15.4 watts) or full Class 4 PoE+ (30 watts) power to every port.
Premium stackable switch with chassis-like capabilities