If you are looking for high-performance, high-quality, future-proof products that can meet all of your cutting-edge voice, video and data networking needs, and won't break your budget — you've come to the right place. From Layer 3 Ethernet switches and Multiservice Access Platforms to NICs, media converters or wireless access points, Allied's strength is in providing efficient, streamlined, powerful products and services that deliver the highest possible return on your investment.
Because they provide world-class quality and performance at prices suited to budgets facing a challenging world economy, Allied Telesis has become the default standard for many of today's critical network operations.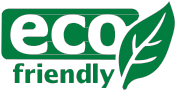 Eco-Friendly
Allied Telesis switches featuring the eco-friendly logo have been designed to operate at significantly lower power than traditional switches. This not only reduces environmental impact, but also reduces the operational running costs of the switch.

Fast, Gigabit and 10 Gigabit
Allied Telesis advanced Fast, Gigabit and 10 Gigabit Ethernet Layer 2 and Layer 3 switches are an ideal solution in the aggregation tier of large networks, for server farms, data centers or small and medium businesses. A robust hardware design provides maximum uptime of critical services and reliability.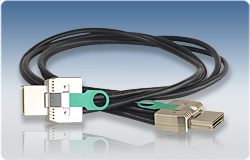 Stackable Edge Switches
Allied Telesis stackable switches offer chassis-like availability and resiliency, allowing management of the stack as a single, larger virtual switch while providing fast inter-switch connectivity. Stackable switches offer a high bandwidth cost-effective and scalable switching solution for your network. Additionally Allied switches that support VCStack virtual chassis stacking, allow stacking of switches in different locations.

Power over Ethernet Switches
Traditional switches deliver data to their connected devices. Allied Telesis PoE switches add an extra dimension providing power to wireless access points, IP phones and IP security cameras, and other connected devices. All Allied Telesis PoE switches meet the IEEE 802.3af industry standard, which helps to ensure seamless interoperability with other PoE devices. IEEE 802.3at PoE+ is supported on some models enabling customers to future-proof their networks. PoE+ provides greater power for applications such as IP surveillance cameras supporting pan, tilt and zoom, IP video phones, RFID readers, point-of-sale or wireless access points.

Chassis-based Switches
Allied Telesis chassis-based switches provide high density connectivity through a range of Fast Ethernet, Gigabit and 10 Gigabit connectivity. Switchblade® 4000 supports single and dual switch matrix, while both families support multiple redundant power modules for maximum reliability.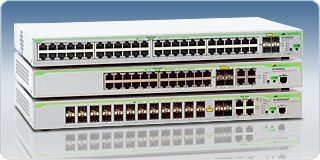 9000 Series
The Allied Telesis 9000 Series of high-performance Layer 2 28-port and 52-port Gigabit Ethernet switches offers advanced enterprise features at an affordable price. With an industry-standard AlliedWare Plus CLI and Web interface, the eco-friendly switch helps reduce power consumption and minimizes noise. The 9000 Series provides enhanced stacking of up to 24 units that can be remotely managed as a single IP across multiple sites. Features such as IEEE 802.1x port-based authentication, Microsoft Network Access and Symantec Network Access Control provide security at the network edge.